Graphic designer by trade, cat lover by heart, and wine drinker because… life.
I'm so proud to call Hamilton, Ontario my home, where I reside with my two tuxedo kitties, Tux and Poppy.
I've always been passionate about crafting, animal welfare, and mental health, so what better way to bring my loves together? I donate 10% of every sale to local rescues and mental health charities.
With cat(s) in lap and wine in hand, all pieces are designed with love.
For wholesale inquiries or custom orders please contact me, I would love to work with you!
Let's keep in touch!  Sign up for my MEWSletter here to keep up-to-date on new products, learn more about local cat rescues, and find out where I'll be selling next.
Kisses & purrs,
Jaime ❤ 🐾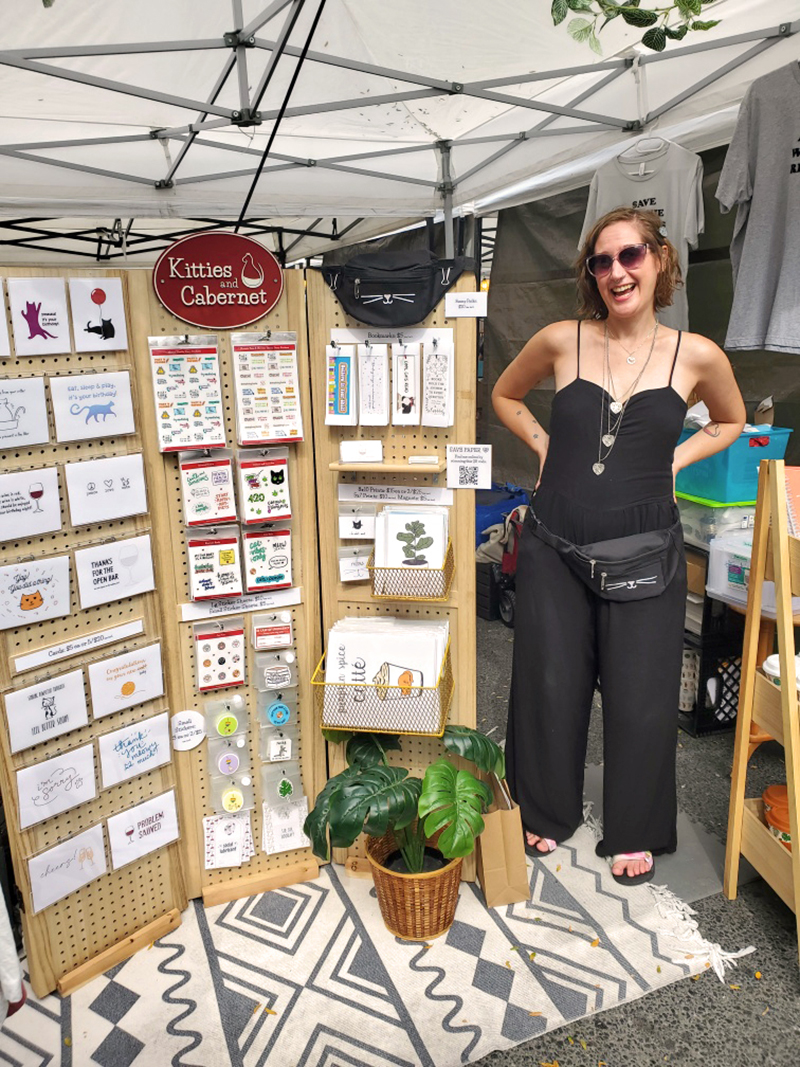 CHARITIES I SUPPORT
Oakville Milton Humane Society
Purrfect Companions of Norfolk
ARF (Animal Rescue Foundation)
LOCAL HAMILTON RETAILERS
ONTARIO RETAILERS
Cottage North Soapworks – Port Dover
Lakeview Wine Co. – Niagara-on-the-Lake
Sloths & Molasses – Simcoe
Oakhill Marketplace – Brantford
Jess Jones Recreation Therapy – London
Alley Cat Café – Stratford
Pure Mentality – Windsor
Burning Kiln Winery – St. Williams
ALBERTA RETAILERS
Waypoints – Fort McMurray
Dinosaur Valley Massage & Wellness – Drumheller
SASKATCHEWAN RETAILERS
Excalipurr Cat Café – Regina
US RETAILERS
KitTea Cat Café – San Francisco, California
buckminster's cat cafe – Buffalo, New York
Meat & Vino Market – Long Beach, California
Ascend Wellness MBS – Minot, North Dakota
Sacred Health – Des Moines, Iowa
ONLINE RETAILERS
Caturday Night – Ontario, Canada
Olive Gift Co. – Maryland, USA
Protect Yo Mental – Tennessee, USA
Elated Hearts – Illinois, USA
Benitez Counseling –  Kansas, USA
Little But Powerful – New Jersey, USA
Elated Hearts – Illinois, USA
Plants by Yours Truly – California, USA
INTERESTED IN BECOMING A RETAILER?
Or contact me directly.
FEATURED ON


The Hamilton Spectator